10 min read
December 13, 2021
A comprehensive guide of Winch-assists and steep-slope mechanised harvesting solutions on tethering/traction-assist technology for logging operations.
The use of winch-assist to harvest and recover trees on steep hills is growing, but many loggers still have questions about the technology, which we will attempt to answer here.
Winch-assist: Steep-slope mechanised harvesting solution
Before we dive deep into the winch assist technology and benefits in part 2 we'll look at the bigger picture in Part 1 including why winch assist is being heavily adopted in the steep slope forestry sector and what external influencers are often considered for crews. In the reference section we have rounded up additional reputable reading resources, references and a glossary of terms.
Table of contents
Part 1: Understanding the External Fundamentals of Steep-Slope Logging
Section 1: Introduction
As we know, harvesting trees on steep hills can be dangerous, with lives lost and serious injuries happening every year in forests around the world. That's one of the key drivers behind the push to mechanise steep slope harvesting.
Using a winch to provide traction for machines to safely work on steeper slopes is not a new idea. Foresters in several European countries have employed bolt-on winch units mainly to tether forwarders so they can deliver full loads of cut-to-length logs to the top or bottom of the hill.
In recent years there has been a move to develop a wider variety of winch-assist (also known as traction-assist) solutions that not only allow forwarders to work on steeper slopes, but also log skidders and felling machines, both tracked and wheeled.
Section 2: Industry and sector trends for steep-slope logging
If we take a step back to the pre-2000's, the harvesting of trees and extraction of logs from the hill was very much a manual process. There would be a tree-faller on the side of hills using a chainsaw to cut down trees, followed by a 'breaker-outs' (choker-setters), hooking up the logs for yarder-based operations.
Now, the transition to winch assist has not only provided opportunities to remove manual tree-fallers off the hill but also help in the wider extraction process. An example of this is increased efficiency by being able to bunch stems and trees, and then place them at angles to make them easier to extract.
Other trends in steep-slope logging include using a lower torque, higher speed winch to increase the operating range of skidders. They can pull larger loads without the compromise of damaging gear or causing excessive surface damage due to loss of traction, which often happens with conventional extraction methods.
Section 3: Technological and mechanical advancements of steep-slope logging
Technological and other external advancements in steep slope logging are becoming more mainstream. This is primarily around reducing the manual aspect of steep-slope logging, in which mechanisation has played a major role. The move towards more mechanisation has partly been driven by legislation and other external influences, such as easy access to new technology and recruitment difficulties, however much of the adoption has been driven at the contractor level. Dependant on the region, contractors may decide to mechanise to future-proof their operation. For example, in New Zealand, contractors may transition to a fully mechanised operation to be more competitive when bidding for blocks and tenders, as well as to align with the needs of the forest managers – i.e risk reduction.
In the Pacific Northwest or British Columbia, mechanisation may be required for further opportunities with licensees or large corporate forest management companies.
Part 2: How Winch Assists fit into Your Operation
The overall result of the move towards greater mechanisation for logging contractors, as covered in Part 1, is that harvesting crews can now cut down trees and bring the wood both productively and safely off steep slopes with machines – no boots need to touch the ground. But how safely can machines work on steep slopes?
In New Zealand, WorkSafe NZ is the organisation that oversees the safety of workplaces and in the section that covers winch-assist technology in its Approved Code of Practice for Safety and Health in Forest Operations (ACoP). It does not prescribe a limit on the steepness of the slope, but instead requires 'all mobile plant using the assistance of a wire rope and/or winch shall be specifically designed, tested, demonstrated to be safe and that the tension on the wire rope or ropes shall be restricted to 33% of its breaking load at all times'.
Best-practice industry commentary recognises that a winch-assist system should not be used on slopes over 45 degrees or 110%.
Section 1: Terrain suitability
A winch-assist machine can be used on a wide variety of terrain, from long broad slopes, to broken country with shorter slopes and more complicated settings. They are recommended for all ground-based equipment on slopes over 50% steepness, but might also need to be used on lower slopes with weaker soils or when wet.
Limiting factors include the need to anchor the winch-assist machine in the ground, which refers to the bucket being dug in to help resist the pulling force of the machine. This can be challenging on hard, rocky surfaces or where the ground is extremely fragile and loose. Spurs that do not have enough room on top to accommodate a machine could also limit use. Bluffs that interfere with the straight running of a rope can be a challenge, too.
Some of these challenges can be overcome by use of blocks to allow for the winch-assist machine to work in a more advantageous direction and to enable the rope to run more freely without danger of damage.
Section 2: Over-all benefits of winch assist systems
2.1 Productivity
The ability to put a harvesting machine onto steeper ground can improve productivity significantly in the right conditions. A machine can fell trees faster than a manual faller but, more importantly, it can also bunch the trees for easier and faster grappling or recovery by a yarder, log skidder or forwarder.
2.2 Health and Safety
Manual tree falling is one of the most dangerous tasks in the forest, so taking a person off the ground and putting them into a ROPS/FOPS cab removes that danger. WorkSafe NZ reports that the number of logging accidents and fatal injuries has decreased since the introduction of winch-assisted technology. For workers who no longer want to do manual falling on the hill, it provides a continuity of work. This can also provide an opportunity to attract new people into the industry who may have been worried about its health and safety record.
2.3 Job Security
Crews that are equipped with winch-assist harvesting and wood recovery systems put themselves into a position to bid for jobs on a wider variety of blocks/settings. That makes them more versatile and thus, more employable.
2.4 Future-Proof Your Logging Operation
Winch-assist tree felling and wood recovery methods are becoming more mainstream. As more forests are planted on steeper ground to avoid competing with food production on easier agricultural land, the ability to safely and productively harvest the wood becomes vital for the future of the industry and the livelihoods of those working in it. Logging contractors who are willing to adopt technical solutions, such as winch-assist systems, will reap the rewards by future-proofing their operations.
2.5 Environmental Consideration
While it may seem counter-intuitive to say that putting machines on steep terrain can be environmentally beneficial, that can be the case with winch-assist systems. The system provides traction to the machine on the end of the cable, which prevents the tracks or wheels from scouring the surface and causing erosion. It's a win-win for forestry and the environment.
Section 3: How to maximise ROI with a winch-assist
3.1 Ability to Keep Working:
It's no secret that Health & Safety legislation and the increasing lack of suitably qualified tree fallers is making it difficult for logging contractors to put people to work on steep slopes with chainsaws. A harvesting operation cannot harvest without the ability to put trees on the ground. Investing in a winch-assist system will provide a contractor with the right tool to get the job done.
3.2 Versatility in Variable Conditions:
Climatic and terrain conditions can provide stiff challenges in any harvesting operation. They can slow the job down and make it uneconomic. A winch-assist system allows machinery (harvesters, skidders and forwarders) to be used on slopes in conditions that would otherwise reduce wood flow and even prevent it from taking place. It provides a contractor with options.
3.3 Increase Overall Efficiency
Putting trees on the ground is only one part of a harvesting operation. Getting wood off the hill can be equally challenging. A falling machine provides the ability to not only cut trees down safely on a steep slope, but also to bunch them for a tower hauler or yarder to grapple them more easily and speed up recovery. The same is also the case for a forwarder or grapple skidder. Studies have shown that this is the most effective use of a winch-assisted harvester.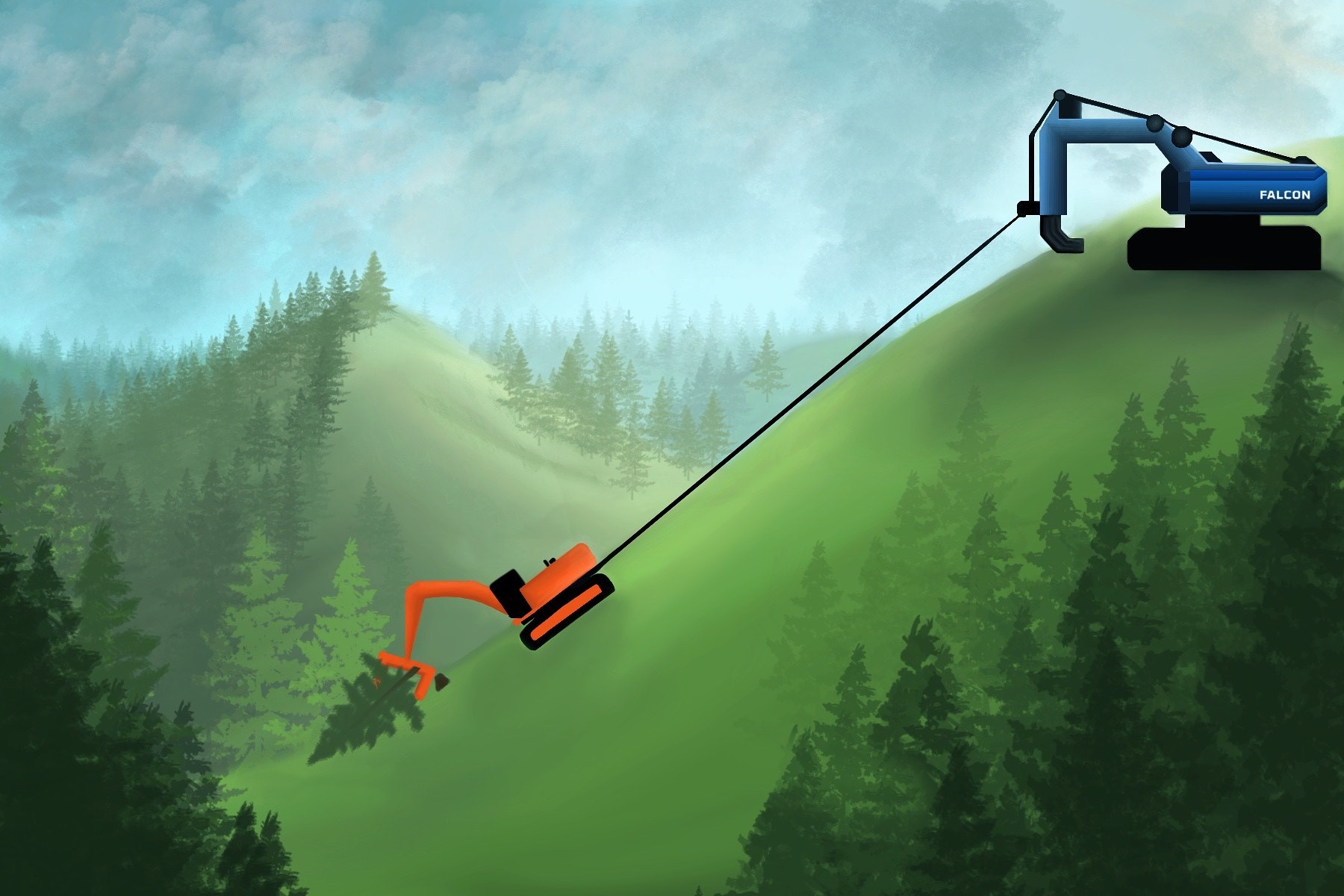 Section 4: Why choose a Falcon Winch-Assist?
The Falcon Winch-Assist, part of our advanced Falcon Forestry Equipment (FFE) range, is one of the most popular winch-assist systems in the world, with sales in New Zealand, Australia, Canada, the United States and Chile.
The Falcon Winch-Assist system is a single drum unit with a 28mm rope that can be fitted to any excavator over 27 tonnes. The FFE Winch-Assist system was developed in the forest with collaboration from logging crews. Feedback from contractors has allowed DC Equipment to create an uncomplicated, simple-to-operate and easy-to-maintain system. The FFE winch-assist is designed to be a multi-purpose machine, equipped with a quick hitch that allows digging, loading and shovelling when not in use in a winch-assist role.
Why is a Falcon Winch Assist the right choice for you?
Here a 5 stand-out reasons to confirm your decision.
1. Winch based- single rope system – strong, simple, safe
The Falcon Winch Assist System is the only winch on the market which has a strong 1 1/8" single steel wire rope-based system.
2. Built for maximum durability - Proven with over 1 million operational hours
The Falcon brand is here to stay and supported by experienced specialised winch technicians. We believe everyone involved in the logging industry has the right to return home safe every single day. We back our product for life, providing dedicated technical support for any eventualities, building a product that will work for you in tough and rugged conditions. After-all, the people behind DC Equipment that manufacturers the Falcon range have been involved in forestry for over 40 years.
3. Capable 21-Ton line pull – There when you need it most
When the going gets tough, the Falcon Winch Assist will keep your people safe when you need it most. We believe in zero harm and, in addition to the technology, we have built the strength and resilience into our system that you demand across all working conditions experienced in your day-to-day operations.
4. 500M of Rope for the longest of slopes
It's not just the line weight that is paramount in the operational safety of a winch-assist system, but the length of the rope, too. With 500m of rope on the drum, the Falcon Winch-Assist enables loggers and contractors to get to those hard-to-reach places or double-down on harvest lines to increase daily stem counts.
5. Versatile asset investment
Falcon forestry products hold their value because of their versatility on the skid-site, as well as their sound, reputable operations. Falcon Forestry Equipment do the necessities of Winch Assists to the highest level which means you can trust the system. In addition to the winch use, Falcon's can help support your hauling rope supports, loading out of trucks, infrastructure and roading management and as a back-up excavator.
Section 5: References
University of Canterbury thesis on winch-assist systems - https://ir.canterbury.ac.nz/bitstream/handle/10092/17777/Leslie%2C%20Cameron_Master%27s%20Thesis.pdf?sequence=1&isAllowed=y
FP Innovations report - https://www.bcforestsafe.org/wp-content/uploads/2021/03/BMP-Winch-Assist-Final.pdf
NZ WorkSafe winch-assist fact sheet - https://www.worksafe.govt.nz/dmsdocument/701-winch-assisted-harvesting-on-steep-slopes
Glossary/Terms:
Tether: a term used for a machine fixed on a rope to another machine anchored at the top of a slope. However, the term 'tether' does not mean the machine at the top of the hill is holding the weight of the machine downhill, it is there just to provide traction.

Winch-assist: the use of a winch and rope to assist the machine on the hill to gain traction.

Full mechanisation/mechanization: refers to a crew that uses only machines in the harvesting and recovery or trees.
Slope: the angle of a slope can be described either as a percentage or in degrees. The percentage grade is the slope, written as a percent. To calculate the slope in percentage terms, divide the rise by the run, for example if the rise is 80ft over a run of 3,280ft the slope is 80/3280 = 0.024. Written as a percent this is 2.4 %. The degree of a slope is the actual angle, expressed in degrees.
Choker-setter or Breaker-out: the term choker-setter is mostly used in US and Canadian logging to refer to someone who is on the hill chaining logs or stems with a strap or chain, using a choker, to the wire rope used by a yarder to pull them up or down a slope. Breaker-out is the New Zealand and Australian term for the same person.